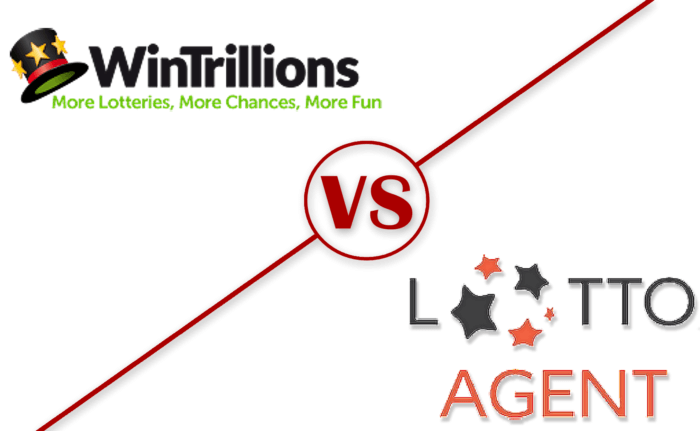 Breaking news! When researching these 2 online lottery giants – WinTrillions and Lotto Agent – I discovered something that might influence your ticket purchase! Continue reading below to see my scoop in the Ease of Use section!
A Look at Both Companies
WinTrillions and Lotto Agent could be two peas in a pod with very similar offerings but they definitely were separated at birth once you take a deeper look.
WinTrillions claims to be the largest lottery website with over 480,000 million customers spread out in 118 countries. Launched in 2005 and acquired by Legacy 8 Gaming in 2017 along with LottoKings and Trillionario, this website offers 19 lotteries, syndicates, raffles and promotions in 8 languages.
Owned by Agento Ltd in Belize and operational since 2012, Lotto Agent has international agents ready to purchase lottery tickets in the USA, Latin America, the UK, Germany, Italy, Spain, and Australia. In addition to their offering of 19 global lotteries, they add the Loteria Nacional of Spain, which has been in operation since 1811 and supposedly has the best winning odds – 1 to 100,000.
| | | |
| --- | --- | --- |
|   | WinTrillions | Lotto Agent |
| Pros | Website in 8 languages | Discounts on single entry, multiple draws and subscriptions |
|   | Promotions include VIP loyalty program, daily deals, memberships, refer a friend and gift vouchers | Scanned tickets deposited in account |
|   | Available on iPhone, Android, Windows phone & Blackberry |   |
| Cons | No single draws – only multiple draws | Website in only 4 languages |
|   | Banking methods hard to see | Download for Android only |
|   | | Lack of syndicate options |
|   | | |
Winner: WinTrillions
Number of Games Offered
This standoff ended in a dead heat with both WinTrillions and Lotto Agent offering 19 international lotteries. But upon closer examination, WinTrillions adds an extra 4 Millionaire Raffles from Spain and syndicates combining some of the world's biggest lotteries.
They both offer the global juggernaut games such as Powerball, MEGA Millions, SuperEnalotto, La Primitiva, EuroJackpot to name a few, but here is an additional comparison list:
| | | |
| --- | --- | --- |
| Lottery Games | WinTrillions | Lotto Agent |
| Australia – Mon & Wed Lotto | | ✓ |
| Australia – Saturday Lotto | | ✓ |
| Canada – Canada Lotto | ✓ | ✓ |
| France – France Lotto | ✓ | |
| Germany – German Lotto | ✓ | |
| Italy – BonoLoto | | ✓ |
| Italy – SuperEnalotto Superstar | | ✓ |
| UK – EuroMillions UK | ✓ | |
| UK – Thunderball | ✓ | |
| UK – UK Lotto | ✓ | |
| US – California SuperLotto | ✓ | ✓ |
| US –  Florida Lotto | ✓ | |
| US – New Jersey Pick 6 | | ✓ |
| US – New York Lotto | ✓ | ✓ |
| US – Texas Lotto | | ✓ |
Too close to call a clear winner in this category.  It boils down to geographical preferences and they both have a clear presence in all!
Winner:  WinTrillions and Lotto Agent
Ticket Prices
Attention bargain hunters and penny pinchers! Lotto Agent offers a better deal than WinTrillions when it comes to pricing. Yes, I did the math but feel free to double-check my work! Here's a look at some of the comparisons:                                                                       
| | | |
| --- | --- | --- |
| Lottery Game | WinTrillions | Lotto Agent |
| Australia OzLotto | $15 for 4 consecutive draws for 1 month | $12.55 – 5-line min., single entry w/ 10% discount |
| Europe Eurojackpot | $37 for 6 consecutive draws for 1 month | $29.99 – 5-line min., single entry w/ 7% discount |
| Europe – EuroMillions | $37 for 4 consecutive draws for 2 weeks | $31.72 – 5-line min., single entry w/ 7% discount |
| Italy – SuperEnalotto | $39.90 for 6 consecutive draws for 2 weeks | $15.03 – 5-line min., single entry w/ 7% discount |
| Spain – El Gordo | $37 for 6 consecutive draws for 1 month | $29.39 – 6-line min., single entry w/ 8% discount |
| Spain – La Primitiva | $27 for 4 consecutive draws for 1 month Sat. | $23.59 – 8-line min., single entry w/ 12% discount |
| US – MEGA Millions | $10 for 2 consecutive draws for 1 week | $24.07 – 5-line min., single entry w/ 9% discount |
| US – Powerball | $39.90 for 4 consecutive draws for 2 weeks | $24.07 – 5-line min., single entry w/ 9% discount |
If you play the same numbers week after week, month after month, WinTrillions might be for you. Once you choose your numbers or even click on Quick Pick, these numbers will be played on consecutive draws for the predetermined amount of time. However, the inability to play a single draw or entry may be a deterrent for some players.
Lotto Agent offers its US Powerball players an extra option– Powerplay. For $1.99 per line, you have a chance to multiply your prize (except the jackpot) up to 10 times!
Not to be outdone by Lotto Agent's aggressive discounting, WinTrillions does offer discounts but they are "hidden" under Promotions in the blue banner on their home page.
Winner: Lotto Agent
Bonuses and Perks
WinTrillions is the obvious winner in this category. With 4 promotions, they scored big time with these "extras"  – Daily Deals, Gift Vouchers, Refer a Friend and VIP Loyalty Program.
A frequent perk at casinos worldwide are rewards cards – the more you play, the more free play, food and beverage you earn. With WinTrillions' Membership program, players pay $10/month for the Gold card which is automatically credited back to your account. And for $50/month, the Diamond card additionally adds on automatic free play in the Diamond Syndicate combining California SuperLotto, USA Hot Lotto and Canada's Lotto 6/49 for 28 monthly draws. Even if they discount $5 off the $50 monthly charge, this is still quite a bit to spend on a membership. Just saying.
Lotto Agent does offer one bonus – "Invite-a-Friend Special."  Pretty straight-forward but make sure you ask your friends if this is okay with them!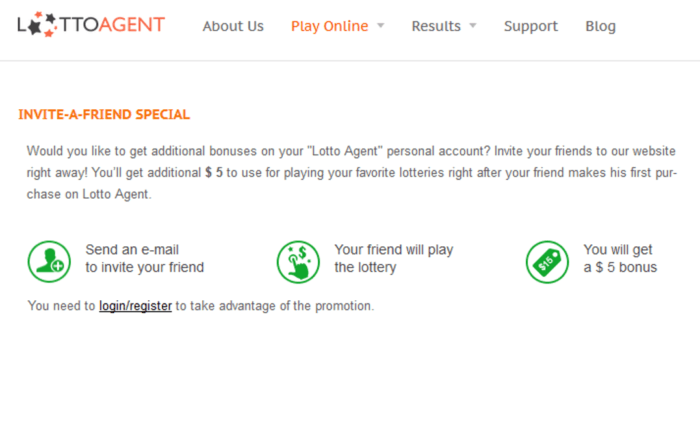 Winner: WinTrillions
Ease of Use
Both WinTrillions and Lotto Agent did their homework and succeeded in providing user-friendly websites. Easy navigation, uncluttered pages and understandable writing leads to the desired end result – buying tickets!
But let's get down to brass tacks. You both got me to the page where I choose my numbers but this is where WinTrillions and Lotto Agent part ways.
WinTrillions guides the user through the purchase process by placing the instructions on the right side with an easy 1-2-3 steps in bright red. They recommend Quick Pick but If you choose to pick your own numbers, the sidebar opens up to allow this. Then voila – click to pay and play!
Though Lotto Agent does a decent job of explaining ticket purchases, it needs some tweaking. The light blue font fades into the white background and you can barely see the 4 additional line options to the right.
And as you scroll down to "Confirm" your purchase, you can barely see the PowerPlay option for Powerball and the option to use your promo code.
Now to the "aha moment" I mentioned earlier in this article. It was a Saturday afternoon and I was switching back and forth between WinTrillions and Lotto Agent. With 4 hours left to go for the US Powerball drawing of $215 million, WinTrillions had Powerball as a header with a countdown clock on their home page. But Lotto Agent instead chose to highlight EuroJackpot which was closing in 5 days! Come on! The drawing was in a few hours and we all should have been alerted to buy a Powerball ticket!
Here are the screenshots of both, taken within seconds of each other:
I think it's back to the drawing board for Lotto Agent – minor adjustments are needed, not a major overhaul.
Winner: WinTrillions
Mobile App
Some statistics predict that there will be over 200 billion overall mobile app downloads in 2018. Mobile is the way of the future, and both WinTrillions and Lotto Agent have jumped aboard to make their services future-proof. Hallelujah!
WinTrillions offers a downloadable app for iPhone only. If you're on Android, Windows Phone or Blackberry, their website is optimized for mobile. Simply fire up your mobile browser, go to WinTrillions' site, and you're good to go!
Lotto Agent currently offers downloads for Android only, which leaves iPhone devotees out of luck. Like WinTrillions, however, they also offer a platform-agnostic mobile-optimized website that works perfectly on most, if not all, modern mobile browsers.
Winner: WinTrillions and Lotto Agent
Banking
It's pretty much a tie between WinTrillions and Lotto Agent when it comes to accepted banking options.
Lotto Agent has 22 deposit and 4 withdrawal methods – all brilliantly spelled out by clicking on Payment Method at the bottom of each web page. Under Deposits, they add 2 more features – payment currency (US $, €, £, AUD $, ₽) and help (detailed information on each deposit method).
WinTrillions has an impressive 32 banking options, including Bitcoin. With a caveat. The only way to see what they offer is by looking at the moving ticker of choices at the bottom of each web page. There's no way of knowing if these are for deposits, withdrawals or both. Only when you get to the "Review Your Order" page and click on Proceed to Checkout will you know for sure!
Winner: Lotto Agent
Claiming Prizes
You checked your numbers and rechecked them at least 20 times! Yes, you are a winner! Now what? WinTrillions and Lotto Agent are pretty much on equal standing in regards to getting your winnings.
WinTrillions' guarantees that all winnings under $600 will be conveniently deposited in your account. Their Winners Support Team will be on hand for larger winnings and no commissions are ever deducted!
When winning the ultimate jackpot, Lotto Agent will contact you and give you the actual winning ticket but you must collect the prize from the lottery operators in person. And in their Terms of Use section, they indicate that prizes up to $2,500 may be deposited to the winner's account, subject to local taxes. And to sweeten the pot, winnings will be deposited within 3 hours the results are published on the official website of the lottery! With no commissions ever deducted!
Winner: Lotto Agent
Security
Online security is just as important as locking your car door. More so, in my opinion. Both WinTrillions and Lotto Agent recognize this as a priority for online lottery players and come through with flying colors!
WinTrillions' website is secured with the latest in 256-bit Secure Sockets Layer (SSL) encryption by GoDaddy.com through June 22, 2019 and is compliant with anti-spam regulations of the Can-Spam Act.
Lotto Agent displays the seal from PCI DSS (The Payment Card Industry Data Security Standard) which sets security standards to ensure that companies who accept, process, store or transmit credit card information maintain a secure environment. They also display a 256-bit SSL certificate from Comodo which further encrypts sensitive information such as passwords and credit card numbers.
In addition, Lotto Agent throws in 2 well-known companies in cyber-security, enlisting their services as an extra precaution – McAfee WebAdvisor and Norton by Symantec Safe Web.
Winner: Lotto Agent
Customer Service and Support
A happy client is a repeat client. This mantra should be the cornerstone of every business, whether it be a brick-and-mortar store or an online e-commerce website.
WinTrillions offers support via live chat, email, phone, Facebook and contact form as well as an incredibly thorough FAQ and Help sections.
Lotto Agent also provides excellent support by way of online chat, a phone hotline, email and by using Facebook's Messenger app. In addition to their informative FAQ section, their How-To Guides offers helpful information on 10 topics, including what to do if you forgot your password.
Winner: WinTrillions and Lotto Agent
The Ultimate Winner: Lotto Agent
Determining a winner in this battle – WinTrillions vs Lotto Agent – was not an easy task. In 3 sections, they were on equal footing – number of games offered, mobile apps and customer service. But Lotto Agent nudged WinTrillions out of the lead in the areas of banking, claiming prizes and security.
Though Lotto Agent's overall pricing was better, WinTrillions' promotional offers did lower some ticket prices and their syndicate and raffles did increase the value of their website. But in the end, the bottom line is still money! It doesn't make sense to pay more for the same product. Ever. And Lotto Agent clearly demonstrates this in their aggressive pricing.
One valuable consideration in overall web design is graphics and color. Lotto Agent's website is lacking in vibrancy and somebody there really likes the muted color palette of gray, pale blue and orange. Lotteries generate excitement and a buying frenzy takes place whenever the jackpots of Powerball or EuroMillions pass the $100 million mark. But nobody ever takes into consideration the design of a 7-eleven or gas station when buying a ticket.
Online lottery is a different animal, offering players a more convenient option.  The field is getting crowded and competition for ticket sales is fierce. So, if Lotto Agent does some tweaking in the design department and bumps up their bonus offers, they can be a clear winner in every lottery battle!
Current Jackpots
Mega Millions

$ 88,000,000

Powerball

$ 50,000,000

SuperLotto Plus

$ 24,000,000

New York Lotto

$ 8,000,000

New York - Cash4Life

$ 7,000,000
Reviews on the Best Places to Play the Lottery Online